New York attack: At least six killed by man driving truck
The following information is preliminary as the investigation is ongoing. A media briefing will take place later. pic.twitter.com/lfcUdz1Jrf

— NYPD NEWS (@NYPDnews) October 31, 2017
One witness, identified as "Eugene," told ABC Channel 7 that he saw a white pick-up truck driving fast down the cycle path alongside the West Side Highway, near Stuyvesant High School, at full speed and hitting a number of people.
He also reported hearing about nine or 10 shots.
Scene of incident in lower Manhattan, where multiple people are injured. pic.twitter.com/oDfunewdNV

— Josh Caplan (@joshdcaplan) October 31, 2017
The New York Police Department described what had happened in a series of tweets:
"Earlier a vehicle entered the West St. pedestrian/bike path a few blocks north of Chambers St.
"The vehicle struck multiple people on the path. There are several fatalities and numerous people injured.
"The vehicle continued south striking another vehicle. The suspect exited the vehicle displaying imitation firearms & was shot by NYPD
"The suspect is in custody. This is preliminary, more information to follow."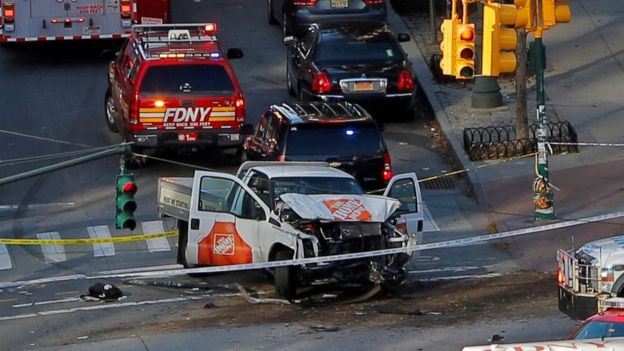 Another witness, Carina, was picking up her son from a nearby school. She told local TV station WCBS-TV: "I could see a lot of smoke and as I got to the corner that's when I started seeing people on the west side highway hitting the ground and I saw this guy… I don't know what he was holding.
"It looked like one of those air guns in a weird way. I didn't know what it was but he was definitely aiming it and it was right there, right by the school.
"So immediately everyone just started screaming 'SHOOTING! SHOOTING!' and we all ran. We ran as fast as we could and everyone was scrambling to get their child and scrambling to get into the cafeteria."